Standing out is important, we feel the same way. What makes us unique is our ability to produce many formats of print media, eliminating the need of sourcing different projects to different printers. This eliminates steps, dramatically shortens turn-times and more importantly - overall cost without sacrificing quality.
Our large format division prints, kits, and ships many types of complete signage projects on a wide variety of substrates from flexible through rigid. We produce high volume in-store retail signage, rout, score, and cut custom shapes, create packaging, print banners, posters, and everything in between. We have made cutting edge investments in back-end technology and the newest equipment to offer a very robust solution for any size project and budget.
We produce and stock a wide range of large format options:
HP Photo-realistic Poster Paper
Scrim Vinyl
Corrugated Plastic
Foam Board
WallMark Vinyl
Komatex®
Styrene
Ultra Board
AlumiGraphics® SMOOTH
SupraFLEX®
Rigid Direct-to-Substrate up to 5' x 10'
Flexible Direct-to-Substrate 8' x Roll Length
Complete Digital Finishing, CAD Routering, Shape Cutting, & Scoring - Max: 120" length, 65" width
Custom Displays
Retail In-Store Signage
Indoor/Outdoor Banners
Photo Wall Murals
Lamination and Encapsulation
Floor Decals, Blades, Aisle Violators, Danglers
Contact us today at (616) 534-8647 and ask to speak with a sales representative to get started, or use our request a quote form. See some of our examples below:
Direct-to-Substrate
The perfect solution for any large format project. We print direct to substrate up to 2.5" thick, including photorealistic paper, floor decals, ultra board, vinyl, KATZ board, styrene, coroplast, komatex, foam-core and more. We utilize white ink on clear substrates and can print finish sizes of 5' x 10' on rigid substrates.
In-Store Retail Signage
Custom Marketing Promotions
Floorstands, Aisle Signage, Blades, Pump Toppers, etc.
Banners and Posters
A few examples of ESKO cut projects: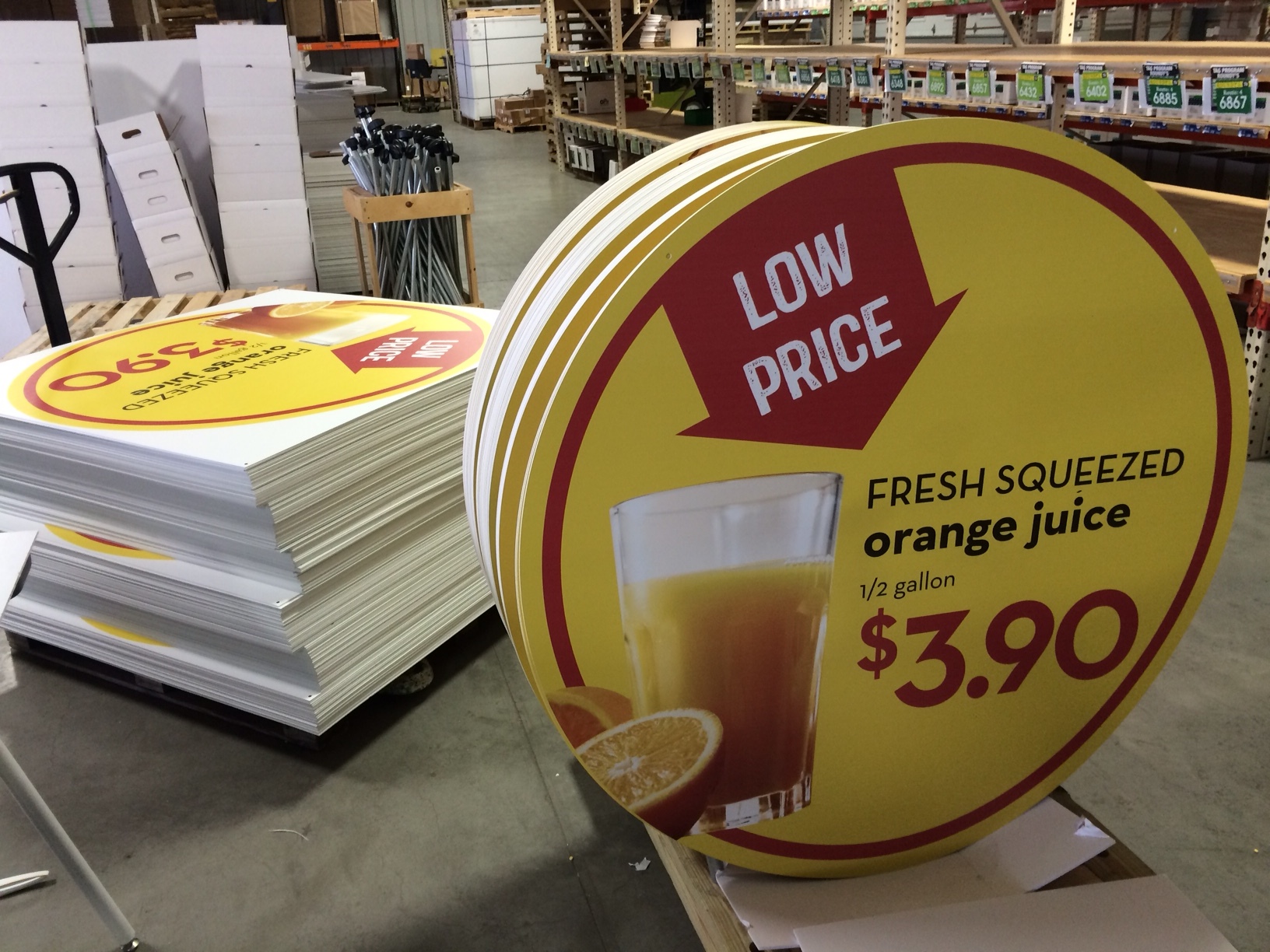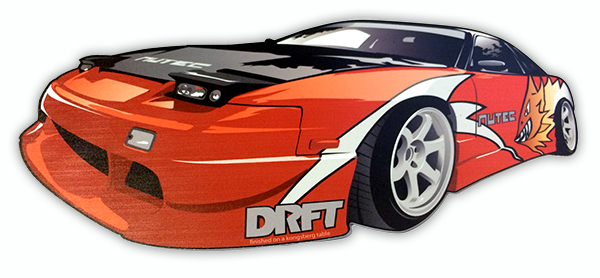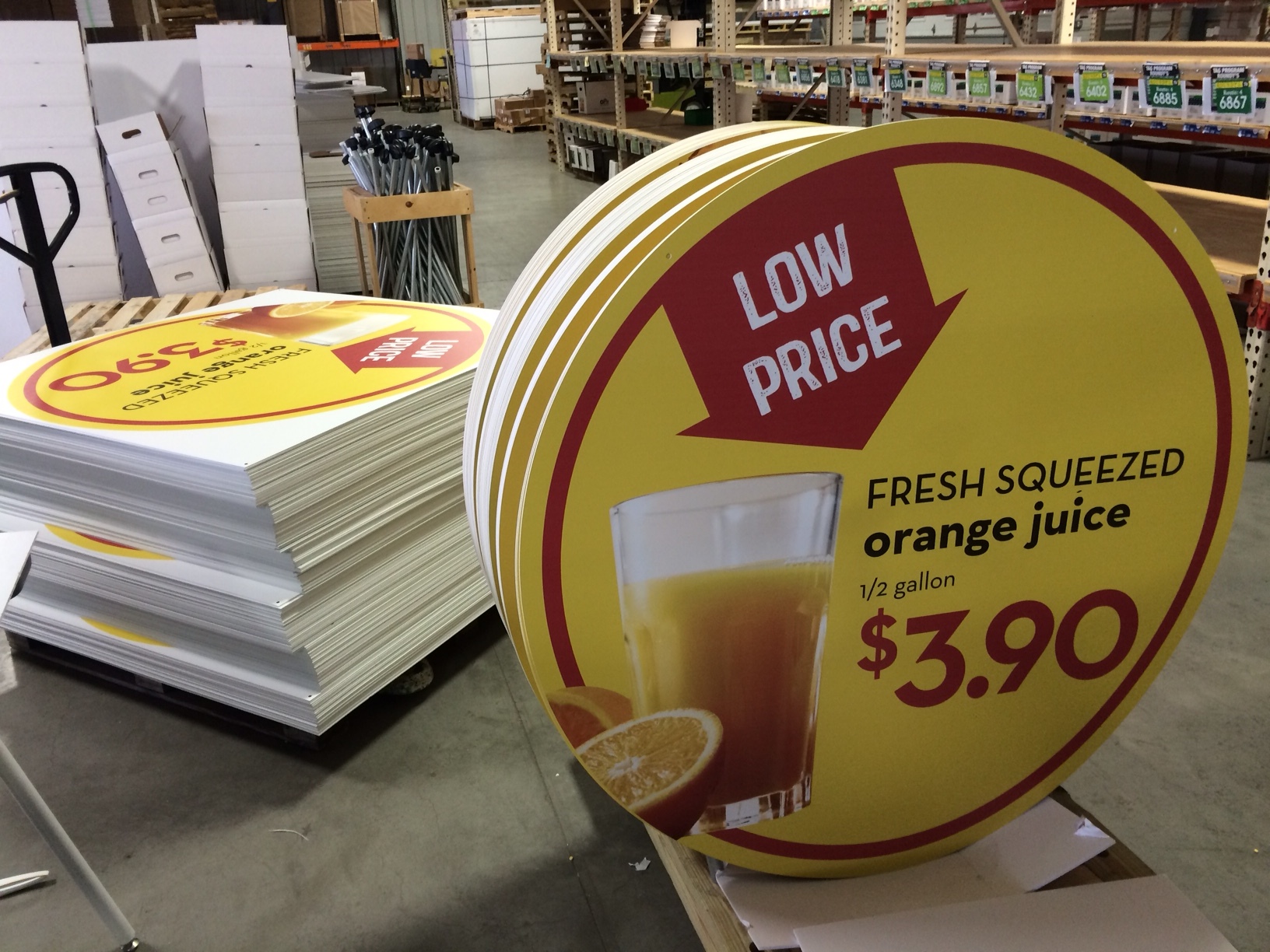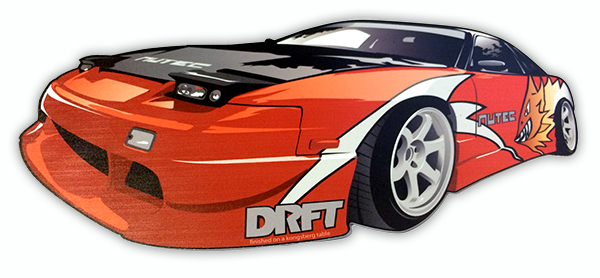 We've Been Cutting Corners Since 1956.
These Days However, We're Doing All Shapes.
Our digital cutting table represents a new standard in digital finishing. We can now cut any shape, from round cornering to the most complex. Perfect for custom promotions that are quick turn-around.
Digital CAD cutting on substrates up to 7/8" thick
Cuts, Scores, Routs, and finishes with unmatched precision
Perfect Registration (no bleeds required)
Custom Box/Package Creation
Custom Retail In-Store Graphics, Point-of-Purchase displays
Retail In-Store Posters, Signage & More
We understand the retail store environment, that's why we provide print solutions "from the door through the store". Use us for more than shelf-edge marketing and point-of-purchase because we also offer simple posters all the way through permanent signage. Our all digital workflow allows for quick turn-around, variable-data, and even quantities as few as one!
New promotions & brand awareness
Pricing flip charts
Retail posters and floor stand signs
Window clings and floor graphics
Aisle signs, headers, blades, end-caps and more!
Installation and resets available
Banners and Yard Signage
All of our signs are digitally printed so each one can be unique. Since the art can be swapped out, these fixtures can be re-used time and time again, making them an investment, not just an expense. We make it simple and affordable for any budget.
Indoor/Outdoor Use
Short runs - no minimums!
Single or double sided
Custom shapes or cut-outs
Trade Show and XL Graphics
Murals for retail spaces, offices and other types of commercial and public spaces can be done to support an architectural vision or simply to create a unique atmosphere. We print your own custom image or our design staff can create anything you can imagine. We automatically splice the overall image into manageable strips which can be hung like wallpaper. If you would like additional information about choosing and enlarging images for optimal use in wall murals or installation, a GPC representative can help.
Day Care Facilities
Waiting Rooms / Lobby
Commercial Spaces / Restaurants
Retail Spaces
Children's Rooms / Playrooms